Messages

2,316
Reaction score

298
Location
Thirty years ago I took my lady fishing on the Sunshine Coast for our honeymoon. This last week we spent at a private cabin on Quesnel Lake to celebrate our Anniversary . Only had our small boat , so had to watch the weather , so as not to get caught too far from base. Actually had some glass smooth water , on a couple days and got too explore the depths.
Hooked the bottom , wait , that doesn't feel like bottom !
Up from the deep, a beautiful 8 pound Lake Trout !
And a little while later, another "
Beauty
" from below ....................................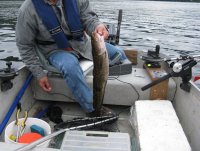 A fair bit of action for a rooky trip on the big lake.
Back at the cabin , had to remember all the tips we were told to deal with these fresh fish.
Good thing , that these ugly fish taste good ..................
See food picture in "What is everyone eating tonight"
A great get away trip , one to remember , wonder where we will go in another thirty years ???