So if you are getting sick of all this, I completely understand. For those who are still with me, I will make this the last part. Hopefully in a month or so I can follow up with what we all love to read, which is a good and successful hunting trip.
Ok so back to the tour......
We were told by a good buddy in Calgary, if you wanted to go to a great spot , try Spray lakes provincial park just South of Canmore. In B.C. I am not really a big fan of Provincial park campsites as they are far too sterile and controlled, but this campsite is more akin to the old M.O.F. campsites with very little administration and just a couple of checkups by the park warden to ensure no one is turning the campsite into a garbage dump.
Spray lake valley is a glacial "Hanging Valley" so the climb up is a bit steep but short. On the way up, we encountered a few young rams and ewes;
Our campsite was huge. Big enough for several vehicles (but restricted to 2 per site).
And we gained a pet for a couple days. This young buck had no fear of us at all and came by to check us out. I think he was a "park" deer who had never felt threatened by humans.
We really enjoyed out time here, had the campsite at the far south end of the park and really felt like we were the only ones on the lake. The views (finally) were spectacular.
The rest of the trip was rather uneventful as we slowly made our way South to Fernie. Kootenay National park highway was open, but the rest of the park was shut down due to fires everywhere, so any pics we have of that are just so smokey they weren't worth posting. From Fernie we plowed through the smoke to Nelson. I have never seen Nelson so deserted in the middle of summer. I am sure the entire B.C. interior tourism numbers had to down by at least 30%.
The smoke intensified as we made our way to Sorrento to meet up with more old friends. Here is the ferry to Shelter Bay on Highway 23 crossing the Upper Arrow lake;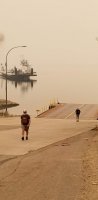 We had a great time at White lake despite the smoke which at times was so bad it hurt our eyes.
The smoke finally got to us and we decided to cut the trip short and get back to the Island where ( hopefully) the smoke was much less. After 3950 km's we were once again at our new residence and back on Island time. We did have a couple of days of smoke there as well, but finally we were able to see the sunrise again.........
If you made it this far, I am surprised. but thanks for coming along for the ride :-)
Last edited: