Been pretty busy for the past couple of days, but had a blast on 4 solid days at the mouth of the Fraser with a couple of great old friends. First day we were able to get this in the first 10 minutes: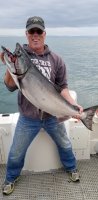 A couple days later we were able to get back for a full pull:
So back to the trip........
A quick stop at Lake Louise for the obligatory classic shots....
Having made it out of Jasper in one piece (Faaar too many tourists... don't they know I am here and they should all leave????), we went to Mt . Assiniboine to see the glaciers and they did not disappoint even it the weather was not the best.
We even were able to get a campsite at Wilcox campsite right beside the glaciers. We spent a rainy and thunder-filled night there which had my neurotic dog terrified all night.....
We woke up to snow above the campsite about 1000 feet.
On the road to Banff park we finally had a ceiling that allowed us to get a few mountain pics in Jasper park.
and some amazing falls
AT 10 pics per thread I will need at least one more to finalize this trip. Part 4 on its way.
Last edited: