Messages

246
Reaction score

71
Location
The alarm hadn't gone off yet but I was up(barely, anything before 5:00am is not that much fun) 3:58am, it's dark but won't be for much longer. Made a cup of tea to go, ate some breakfast while gearing up and out the door I go. I make it to the spot I've picked for the morning and set up two decoys, a jake and a breeding hen about 25m from the big fir tree I'll be nestled under. My perch is elevated up a bank and gives me a good view to the east and a little ways to the west and south. The mountain is at my back and it's steep. I make myself comfortable, get my calls all arranged within reach, and snip a few branches out of my way. I'm set, it's my fourth morning so far this spring looking for a mature bird, I'd settle for a jake but I'd like a nice big gobbling tom this year. It's my third time trying out this area because both other times I've been into birds but it just didn't work out. The first time I had a tom finally coming in after two hours of playing with me and they were spooked off by other hunters and the second time only hens showed up.
Shortly after 5:00am two hens cross the opening 70m or so to my east and since they are yelping and clucking I join in, all this does is call the hens in but they lose interest before long and feed off to the south. Right around 6:00am a tom fires up off to my west, not too far. Every time I call he gobbles back and each time he sounds closer. Now I'm getting really excited. Twenty minutes or so of this and I finally see the tom displaying directly south of me across the opening approximately 80m or so away through a thin screen of trees. Every time I call he puffs up and gobbles his head off, he's really fired up. So am I!
A couple more calls and he's almost there when a hen wanders into my setup and starts clucking. I thought for sure she was going to ruin everything. Once the tom entered the clearing he saw my decoys and that's when he really started thundering away. He did not like my jake decoy about to mount the breeding hen. One slight shift of the barrel to the left and he's in my sights. I tighten up on the trigger and he's down.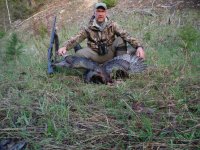 My two year turkey drought is at an end. A big mature Merriam tom is in the freezer. Ten inch beard, one inch spurs, just a gorgeous bird. Every time I lay my hands on one I can't get over the colours of their feathers. My turkey season is at an end, now if my daughter has any time at all for the rest of the season we can see about getting her on her first bird. She's come close the last two years but with a couple of misses and just not pulling the trigger because she thought she might get a more perfect shot it hasn't happened. Turkey hunting in the spring has definitely become my favourite spring hunt by a long shot. I enjoy bear hunting but calling in a mature tom is just addictive. This is my sixth bird in ten seasons of chasing them. Plus they are just plain delicious. Best of luck for the rest of the season and be safe.