So, on very short notice my youngest says friends are fishing Bamfield for the long weekend and would I mind if he went there instead of helping me take a friend out locally. I said do what you want but why don't we take my boat to Bamfield and join them. So we did.
But first there was a birthday party he needed to make a showing at. They were cooking some of his salmon and his friends pork. We were there till about 9pm then went to pick up my son's gear before heading up island. Close to 10pm we were on the road. We stopped in Parksville for fuel and ice then over the hump to Alberni. I had talked to Nog about the road to Bamfield and he said and I quote, "Chit". That is one bitc# of a road. 81 kms took three hours. We did get up to 40kmph for about 15 seconds and spent a lot of time at 15. Nog also suggested to tarp the boat and motors to keep the dust out. Good call Matt, much needed and much appreciated.
We arrive at about 4am and know his buddies will be up at 5 for coffee and to get ready to head out for the morning bite. We figured we'd just recline the seats and sleep for a whopping 60 minutes.
The morning light shined gently on the eyes of Lucy Jordan………. Sorry I still haven't recovered from the weekend and my mind wandered. The morning light saw us in the boat and heading to the first fishing spot. It was a gong show of boats but we managed 7 fish in the boat all in the 10 to 14lb range. Beautiful chrome coho that danced on the water and gave is a fright each hook up. The chinook ran with determination both away and towards us. Both our Islander reels, mine a MR2 and his, a MR3 worked flawlessly. All fish were caught at 33 feet or less. Green flashers and numerous terminal tackle. Spoons, hoochies and anchovies.
Back at the dock I was really fading fast due to a lack of sleep and 60 years of age. No it wasn't the beer. I had only had two all day.
Sunday was out to the same spot but the bite didn't seem to be on there so after a couple of hours we decided to try for some lingcod before heading back to have a moose burger for lunch. We tried, unsuccessfully in a couple of spots and then hit a spot where I hooked a really nice ling. Unfortunately, the gaffing didn't work out and both the ling and my jig danced to the bottom. That was a disappointment as a nice feed of cod is always on of my favourites.
We fried up a couple of moose burgers, threw on some cheese and chowed down of some of the finest meat BC has to offer. Now I have room in the freezer for one more pack of, hopefully, this years moose.
A funny thing happened on the way back to the boat. We were just about at the dock and I saw two guys standing there with their gear. It was obvious they were heading to a lodge of camp to do some fishing. I was just about to make a comment about waiting for their taxi when they turned around and it was my long time hunting partner and another aluminum boat builder from Victoria we both know. They said they had just mentioned the guy walking towards the dock looked just like me and damn if it wasn't me. How strange moments in time can be for us to both be on the same dock at that moment of time that we could meet up and wish each other well on our respective trips..
After some chatting and their boat, Doug built the one they were heading out in, had arrived, Ethan and I took the Shirley B out to try the evening bite. 10 minutes after putting the lines in, we were on to a fish. By the time we head back to camp four more had had the unfortunate opportunity to swim by us.
We weren't sure if we'd pack up at first light or not but I was convinced we should fish the early morning and then pack up. I was glad we did. What an incredible morning. Flat calm except for the gentle swells coming into the inlet, early light in the east, boats with navigation lights on are spotting the ocean. It doesn't get much bett………….fish on………..as I was saying, doesn't get much better than this. 1st fish on as the morning was breaking but this one got away from us. Still an awesome moment. We landed three more fish by 8:10 and started back towards the dock and the work of cleaning the last fish, breaking camp and hitting the road from hell.
The trip in had cost us a fender of the trailer what might the trip out cost. Oh, we still have the fender it just needs to be reattached.
All in we had three wonderful days on the west coast and came home with 15 fish. We thought we had our limit but miscounted and were one short.
I have a couple of after pics and am waiting for some before to be sent to me.
I hope you all liked the story.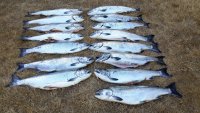 Vern like fish too.